Land Rover, meet the Andersen A2.
Smart Charging in a seamless package.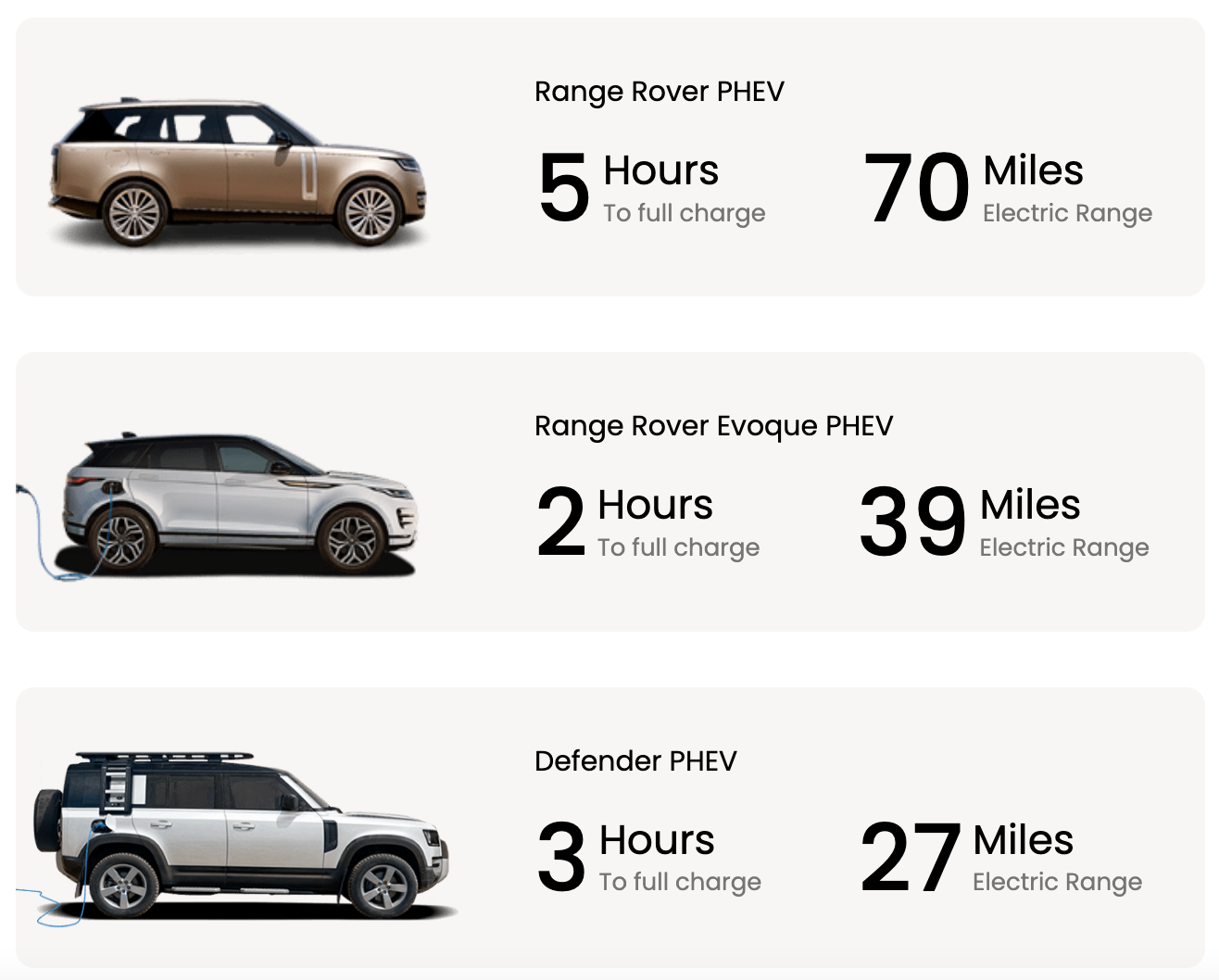 Fast charging. And then even faster.
Enhancing the EV and plug-in hybrid (PHEV) experience, Andersen's premium home charging points are compatible with all-electric and plug-in hybrid vehicles, along with free over-the-air software updates.
The new Range Rover is available with an extended range Hybrid Electric powertrain. Charging the battery at home using an Andersen A2 will allow customers to achieve a full charge in five hours.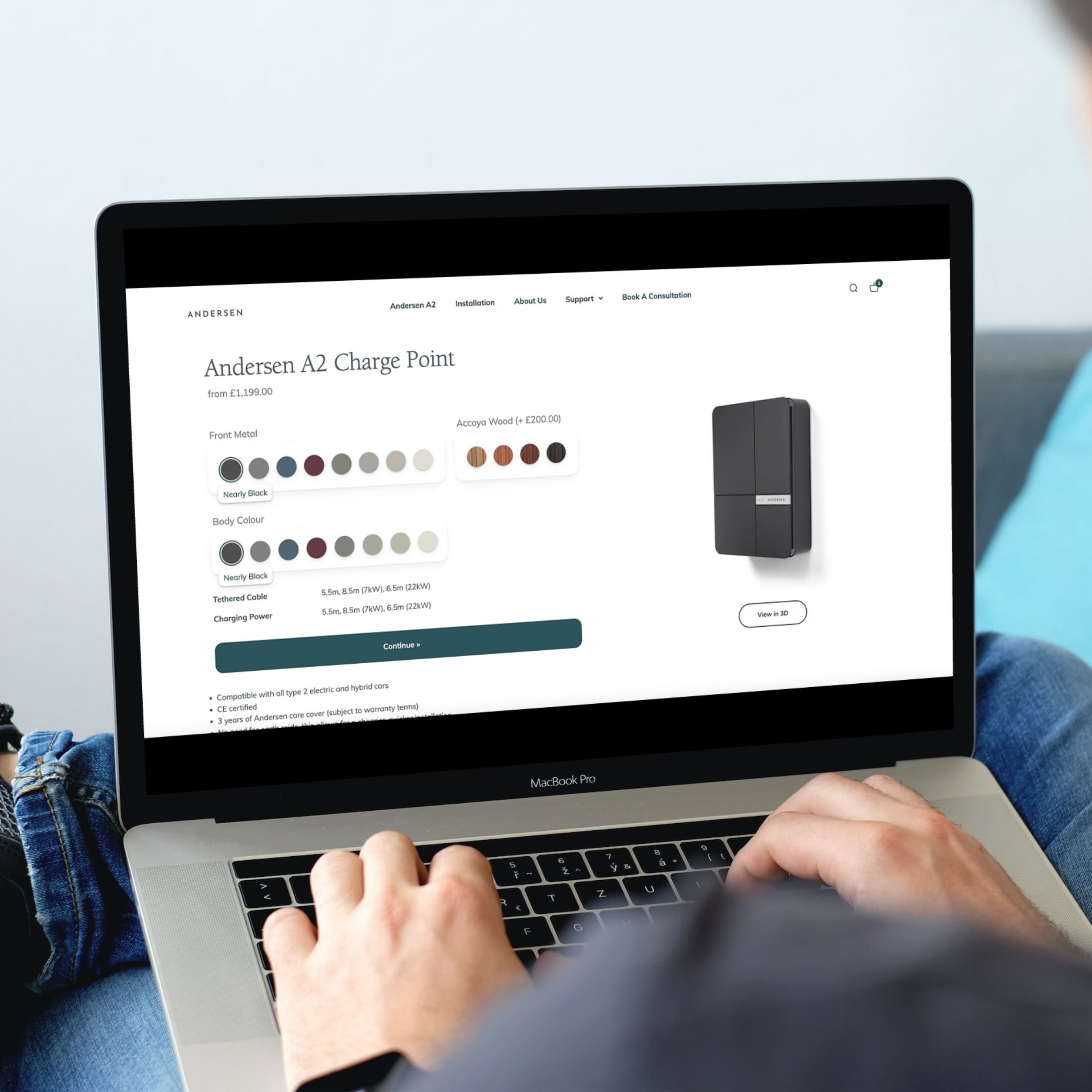 Step 1
Design your charge point
Visit our online design studio to customise your charge point. Choose from over 126 colour options and select your power and cable length. Once you're happy, go to step 2.
Checkout
Complete your order
Add any installation requirements to your order. You can choose between installing the charge point with your own electrician, or through a qualified Andersen EV installer.
Once you've confirmed your options, you can simply tell us your contact information and pay securely through our online checkout process.
Survey
Complete your survey
If you have selected a standard installation, we will send you a link to complete our virtual site survey, which will take around 10 minutes and involves a series of questions about your home electrics.
If you selelct a premium installation, we will visit your property and conduct a full survey for you.
Installation
Have your Andersen A2 installed
Here is where the fun starts!
If you choose an Andersen install, our electrician will contact you on the day with their expected arrival time.
Installation takes around 4-6 hours depending on complexity.
Your installer will provide a demonstration and also help you download our Kønnect+ app.
We design, build and install our chargers.
With Andersen, you get the same attention to detail, exceptional materials and great features you expect with your Jaguar. We build your charger here in the UK and each one is made to order. Remote software lock, schedule and track your energy usage and costs, all from your smartphone with our app. When choosing a charge point, why compromise? You've met your match.
3kW, 7kW, 22kW fast charging
IEC 61851-1 mode 3
Compliance with IEC 62196-2
Tethered 7kW cable (5.5m or 8.5m)
Tethered 22kW cable (6.5m)
High-performance ultra-flexible cable
Can be wound clockwise or anticlockwise
Modular fitment for easy maintenance
IP44 rated type 2 plug **IP44 only maintained if the protective rubber cap is fully secured onto the plug when the charge point is not in use
128-bit data SSL AES encryption for smart connectivity
Bluetooth with TLS encryption (For setup only)
Indoor or Outdoor (permanent mounting)
Modular exterior and cable components
Rear and Bottom cable entry
Single band 2.4GHz IEEE 802.11b/g/n.
Supports Open, WEP, WAPI, WPA and WPA2-PSK WiFi security modes.
What our customers say
Read all Trustpilot Reviews
Excellent product that looks fabulous
So easy to use and link with app. Dan was a great ambassador for Andersen - on time, polite, cleaned up, rang ahead, shared his photo so I knew who to expect. Couldn't have done better.
Fantastic Product & Superb Installer
Fantastic product, looks great and simple to use. Keith was my installer and was superb. Incredibly professional, explained all about the charge unit and cleaned up his work area before he left.
Perfect experience - ordering & installation
Two and a half weeks from order, to installation. PERFECT! Customer service has been fantastic and the engineer (Kalon) did an amazing job whilst also being very quick!