Installation
Our current installation leadtime is 2-3 weeks.
We believe in flexibility, so you have a couple of different options when it comes to having your Andersen fitted at your property.
Through Andersen ourselves; we'll take you through the whole process from beginning to end, and our dedicated team will be able to advise you each step of the way.  You can find out more about the Andersen installation process below.
2. Through our installation partner network.  These are independent companies operating in your local area, ready to provide local service.  These partners have met Andersen's criteria to be featured.  You can find them on the interactive map here, and they'll be able to provide you with an individual quote to fit your Andersen charge point.  The contract for the installation will be with directly with your chosen installer.
3. Through your own trusted electrician.  You may already have a trusted tradesperson in mind to carry out your work.  If that's the case, you can purchase your Andersen charge point from the website and liaise with them for the installation.
Step 1
Design your charge point
Visit our online design studio to customise your charge point. Choose from over 126 colour options and select your power and cable length. Once you're happy, go to step 2.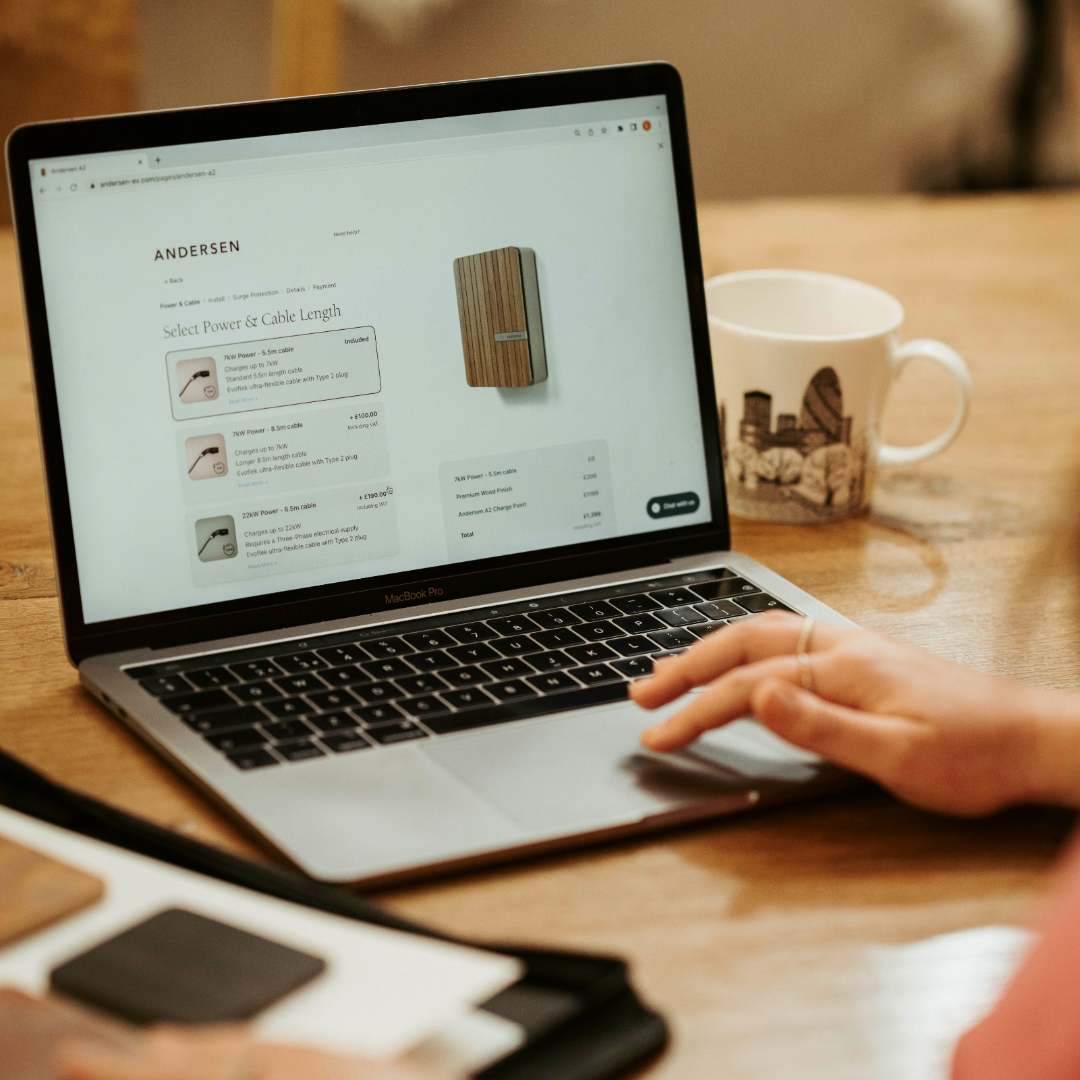 Checkout
Complete your order
Add any installation requirements to your order. You can choose between installing the charge point with your own electrician, or through a qualified Andersen EV installer.
Once you've confirmed your options, you can simply tell us your contact information and pay securely through our online checkout process.
Survey
Complete your survey
If you have selected a standard installation, we will send you a link to complete our virtual site survey, which will take around 10 minutes and involves a series of questions about your home electrics.
If you selelct a premium installation, we will visit your property and conduct a full survey for you.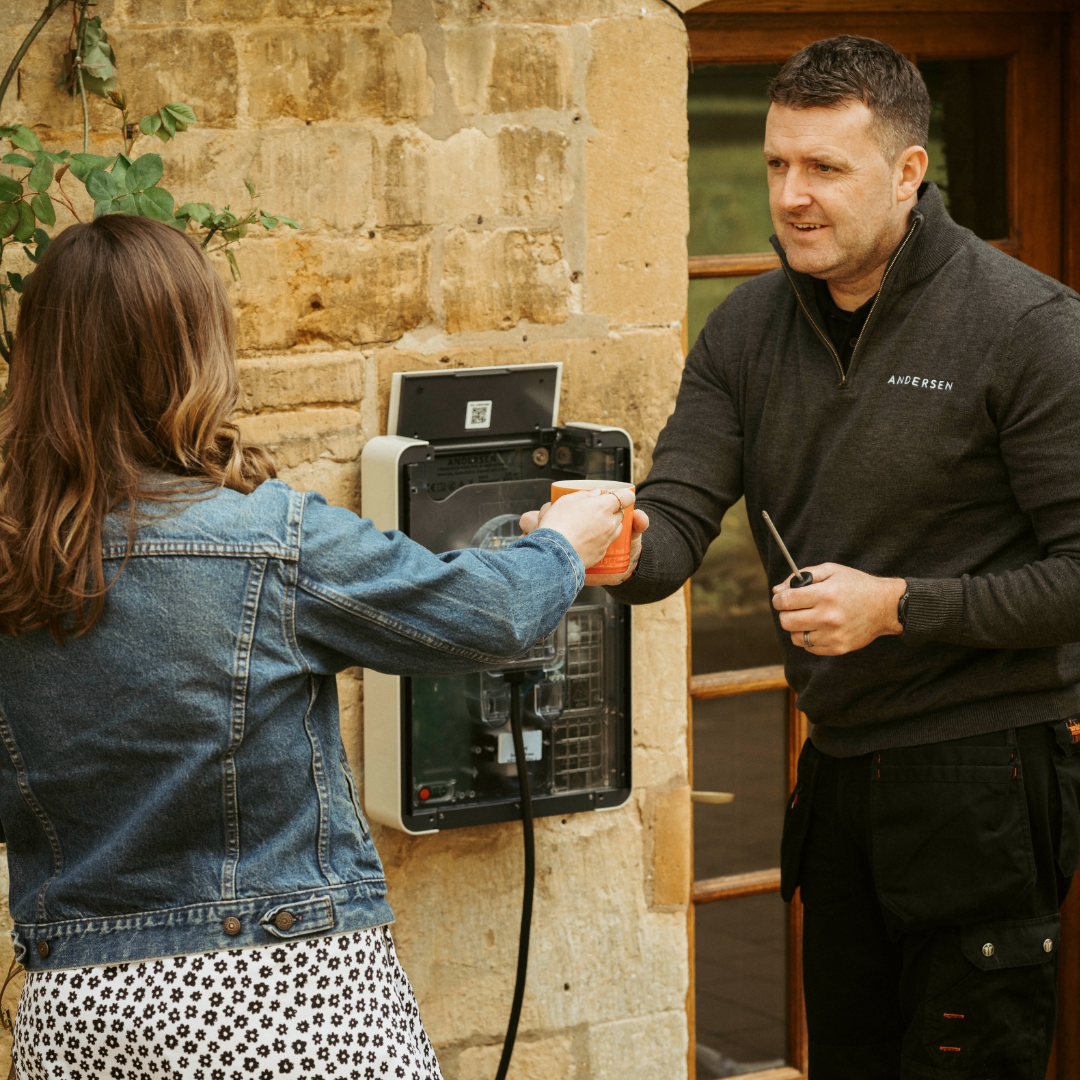 Installation
Have your Andersen A2 installed
Here is where the fun starts!
If you choose an Andersen install, our electrician will contact you on the day with their expected arrival time.
Installation takes around 4-6 hours depending on complexity.
Your installer will provide a demonstration and also help you download our Kønnect+ app.
Installation Reviews
Visit our TrustPilot page here
A straightforward installation with no issues. Keith was courteous and efficient. He arrived bang on time to make a start. He explained how everything worked and helped me set up the App once the installation was complete.

Dan called evening prior to confirm installation slot for following day. Arrived dead on-time. He planned out and explained the installation before wiring, drilling and fixing everything carefully and neatly - and left no dust or debris for us to clear up! He installed and explained the app, made sure our car was charging correctly. Very pleased with professional friendly service.
The process was really simple but it was the installation that stands out. Keith called the day before and moved his arrival time to accommodate my time pressure. He then found a way to completely avoid the need for eternal wiring and what a difference that makes. He then spent as much time as I needed going through the app. Excellent service thanks Keith!
FAQ
Find out more about our installations below
What is included in a standard Installation?

A remote survey of your property based on images provided by you
Up to 15m of cable run from supply to charge point
Installation of standard switch gear to supply the charger directly
Up to 4 hours installation
Penetrate 1 wall or partition

More information can be found during the buying process on our website.
What's the difference between the different installation options?

Andersen's in-house installer team cover the whole country and will provide seamless service from the start of your experience to the end.  However, the independent installer network shown on our interactive map may be able to provide you with greater flexibility in availability and pricing.
How do I know if I qualify for a standard installation?

The vast majority of installations are standard. 

If you aren't sure, it is best to place your order by selecting our 7kW charge point with standard installation.  We can take it from there.

After you place an online order with a standard installation, we will send you an email questionnaire.

If the questionnaire requires specialist input from our electrical design team or you do not have the time to complete it, we would recommend our Premium install service. We will arrange for one of our survey team to visit your home to confirm if a standard installation is suitable. If required, we will then provide a bespoke quote for any additional materials and labour required over and above our standard installation specification

The pricing of the Premium Install Service includes the cost of the home survey and standard installation elements.  Any additions unique to you will be itemised in our quote.

You can select "no-install" for an A2 charge point, but to enjoy an installation by experts, get the best of your A2 and access a 3-year onsite warranty we recommend you use the Andersen service.

* Subject to Terms of Sales.
How do I know if I have 3-Phase power?

The majority of UK homes have single phase supply, but you can usually tell if you have three phase power by looking in your electric meter cupboard.  If you have three phase supply, you will see three main fuses.  If you're in any doubt, you can send us a photo and we'll be able to let you know what supply you have. 
How long does installation take?

The time taken to install your charge point will vary according to the specifics of your home and where the Andersen A2 will be sited, but a standard installation usually takes around four hours.  Your installer will be able to give you an estimate before they start work.
Do you cover all of the UK?

We have a nationwide network of expert in-house electricians covering all of mainland UK.  However, we can put you in touch with an independent accredited installer in your area if you live outside our coverage.
What is an adaptive fuse, and do I need one?

In some homes with limited incoming supply, we recommend fitting an adaptive fuse to safely balance your EV charging power against your home consumption.

It automatically ensures that your EV gets power without overloading the fuse and causing a potential outage. We will highlight this to you after you've completed your survey so you don't need to do anything now.
What is surge protection, and do I need it?

Surge protection devices are an optional extra offered by Andersen EV that helps protect your property, vehicle, charge point and yourself in case of a lightning strike or other freak accident.

By law, Andersen EV must offer you the choice of having a Surge Protection Device installed. We charge £150 for the device and labour, and this can be paid upon checkout.

For any questions about SPD, please contact us and we'd be happy to help.
Further questions?
Call us today on 01234 916 125
Get in touch